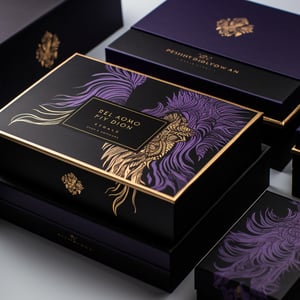 PACKAGING Ai
STEP INTO THE FUTURE OF PACKAGING CONCEPT CREATIONS
Whether you're a small business looking to streamline your packaging process or a large enterprise seeking to enhance your sustainability efforts, our packaging Ai solutions can help you achieve your goals. Our team of experts is dedicated to providing you with the best Ai-driven packaging solutions available, customised to your specific needs and requirements.
Explore our webpage to learn more about our innovative packaging Ai solutions and how they can benefit your business. We are excited to partner with you on your journey towards smarter, more efficient packaging operations.
Ai technology has the potential to be a powerful tool for assisting in artwork creation, allowing designers and creatives to quickly generate new ideas and designs. However, it is important to note that Ai should be used as a tool to augment human creativity, rather than replace it entirely.
We would like to share with you some of our ideas and inspiration.
SEND YOUR ENQUIRY TO BKT
If our images have sparked your inspiration and you wish to give them a tangible form, please do not hesitate to send us your enquiry today. Our team is available and ready to provide assistance.

AI design for packaging serves as a captivating interpretation of what could potentially exist.
By harnessing the power of artificial intelligence, our designers are able to explore innovative possibilities and push the boundaries of creativity creating unique packaging concepts that captivate the imagination.
These designs showcase the fusion of art and technology, offering a glimpse into a world where packaging becomes an immersive experience. With AI as a visionary companion, BKT's packaging designs transcends conventional limitations and opens new avenues for brands to express their identity and engage with their audience. It breathes life into ideas that were once confined to imagination, bringing forth a future where packaging becomes a work of art, leaving a lasting impression on your consumers.