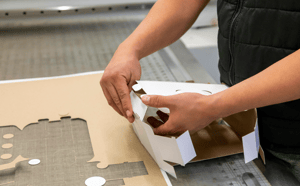 HAND ASSEMBLY & FULFILMENT
MANY HANDS MAKE LIGHT WORK
While machines can be incredibly efficient in many packing projects, there are some cases where hand packing is the most efficient option. This is often the case for products that are delicate, irregularly shaped, or require special care in handling.
Hand packing can also be a more cost-effective solution for small-batch or custom orders, where the cost of setting up and running a machine may outweigh the benefits of automation. Additionally, some customers may prefer hand packed products, as they may perceive them to be of higher quality or more artisanal.
Overall, while machine production can be highly efficient, there are some cases where hand packing is the best option to ensure that products are packed safely and efficiently.
There are many packing projects where machine production is just not feasible, so hand packing by a skilled team is the most efficient answer.
Got a question? Chat live with one of our expert team who can help guide you through our entire Hand Assembly & Fulfilment process.
HAND KITTING
BKT offer a hand kitting service as part of our ecommerce order fulfilment processes.
The purpose of product kitting is to streamline the order fulfilment process by creating a series of product sets that are ready to ship.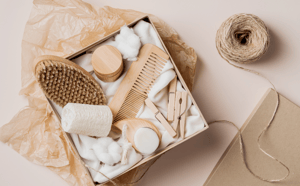 THE STEPS OF THE KITTING & FULFILMENT PROCESS
RECEIVING AN ORDER FOR YOUR PRODUCT KIT
A customer will place an order for one of your product kits via your ecommerce website. This could be either a standalone kit or a subscription offering that will be fulfilled on a specific date for the next cycle.
PICKING/PACKING THE KIT FOR SHIPPING
If the product kit is pre-assembled, the picker will need to retrieve the kit from the designated area in the warehouse. If the kit is being assembled on demand, the picker will need to retrieve all of the items included in the kit and pack them according to the packing plan.
Once the kit has been assembled, it requires the appropriate shipping label and scanning to identify the kit as one SKU containing a specified list of items.
SHIP YOUR PRODUCT KIT TO THE CUSTOMER
The completed kit is then dispatched to the customer who is eagerly awaiting their purchase.
HAPPY CUSTOMERS BECOME LOYAL CUSTOMERS
Providing excellent customer service is crucial for any business, that's why BKT will endeavour to be an additional member of your team.
From custom branded boxes to free plain packaging, BKT works with you to provide the unboxing experience you want.
We also help you offer the most cost-effective shipping options to meet your customers' expectations and reduce costs.