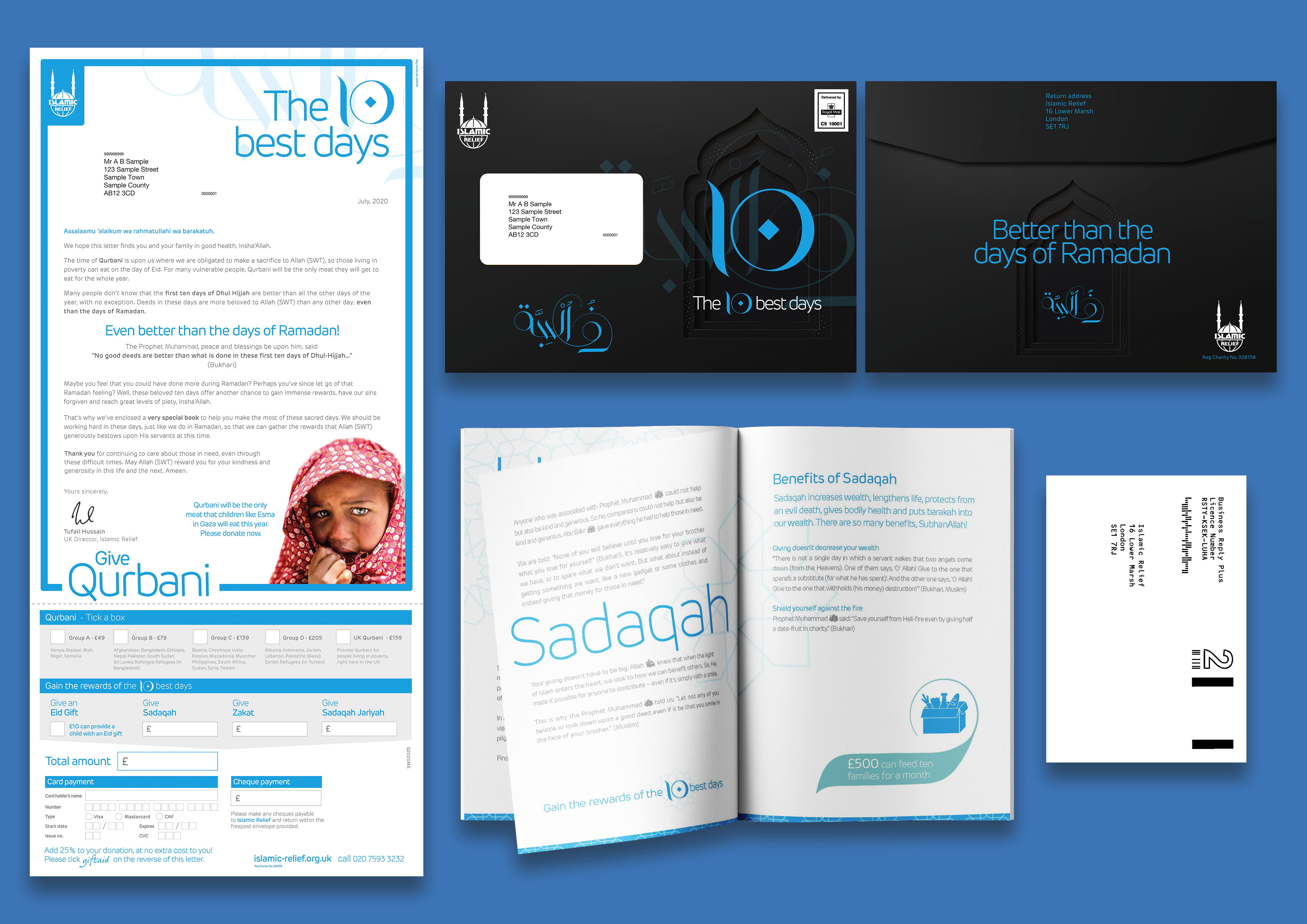 Islamic Relief secured their business exclusively with BKT in 2017 and chose us for our experience within the charity sector, combined with our campaign consultancy, offering alternative innovative pack solutions.
Working closely with their marketing team in processing data, including a full data health check, print and mailing, the Qurbani 2020 Campaign was mailed to 75,000 donors from our facility at Tunbridge Wells, Kent.   The direct mail campaign consists of;
Bespoke Windowed Outer Envelope

Personalised Extended Letter

24pp Stitched Booklet

Business Reply Envelope
According to Tufail Hussain, director for Islamic Relief, the charity raised a record amount through its annual Ramadan appeal this year, despite having to cancel all of it's community fundraising events because of the coronavirus pandemic. BKT are pleased to support our customer to deliver high impact campaigns for charities.
Testimonial:
"We have been using BKT for our campaign mailings for a number of years now and recently for our Qurbani campaign. We had a mailing sent out to donors which contained a booklet/guide that went down extremely well with our supporters. The print quality of the packs were great and allowed us to visually stand out from competitors.

The communication with BKT is always seamless for any direct mail project we undertake from start to finish and they are extremely helpful – no matter what the query may be!" – Marketing Manager, Islamic Relief UK

Contact us– If you would like to work with BKT on your next campaign, our client services team are here to help with your enquiry.
---
What is Qurbani? Qurbani means sacrifice. Every year during the Islamic month of Dhul Hijjah, Muslims around the world slaughter an animal – a goat, sheep, cow or camel – to reflect the Prophet Ibrahim's willingness to sacrifice his son Ismail, for the sake of God. Throughout our lives, each and every one of us makes sacrifices to help our friends, family and neighbours. By sacrificing what we have to help those in need, we offer crucial solidarity and hope. Right now, a staggering 1 in 9 people worldwide are battling chronic hunger. However, there is hope: by giving Qurbani, you can feed a family in need this Eid.   You can donate to the Qurbani 2020 Campaign or contact Islamic Relief today.